Glass Manifestation (frosted glass film) & Window Graphics
With more offices than ever using glass as a way of dividing up the space manifestation is the perfect way to not only meet safety requirements, but also allows you at the same time introduce style and or branding to you work environment. Done correctly manifestation can transform the space around you.

We cut and install all types of window graphics, we are professional, clean and very experienced in this field, will happily provide you with advice and ideas to help your workplace meet the regulations as well as enhancing your compays work environment.

Window film can be used for privacy, UV controll (often used in art galleries and museums to stop fade), heat control and branding. It can also be used to ad colour and images to an otherwise plain area.
On May 1st 2004 a new regulation Document M - Access to and Use of Buildings (2004 edition) was issued. This refers to new critical location buildings, and refurbishments of existing buildings from that date, it is a duty of care and states the following:-
Glass entrance doors and glazed screens will satisfy Requirements M1 or M2 if:-
A. They are clearly defined with manifestation on the glass at two levels, 850 to 1000 mm and 1400 to 1600 mm above the floor, contrasting visually with the background seen through the glass (both sides from inside and outside) in all lighting conditions:
B. Manifestation takes the form of a logo or sign at least 150 mm high (repeated on a glazed screen) or a decorative feature such as a broken lines or continuous bands, at least 50 mm high.
C. Glazed entrance doors, where adjacent to, or forming part of, a glazed screen, are clearly differentiated from it by the provision of a high contrast strip at the top and on both sides.
D. Glass entrance doors, where capable of being held open, are protected by guarding to prevent the leading edge constituting a hazard.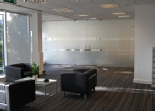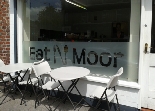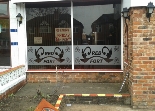 Enquiry Form

Shop fronts signs | Commercial Signs | Sign trays | Directory signs A-Boards | Pavement signs | Exhibition signs | Car park signs Magnetic signs | Site signs | Banners | Flags | Health & Safety signs Directional sign | Post system signs | Individually cut letters in Acrylic, Dibond, Foam stainless 3-D letters